The marriage of Yusuf Buhari to Zahra Nasir Bayero is one of Nigeria's biggest celebrity events of the year.
Thousands attended the event at the palace of the Emir of Bichi, a town in Kano state.
One historian told the BBC that a wedding between presidential and royal families was unprecedented in Nigeria.
The festivities continued on Saturday, when the bride's father Nasir Ado Bayero was officially crowned as the Emir of Bichi. His brother is the Emir of Kano, one of Nigeria's most prominent Islamic leaders.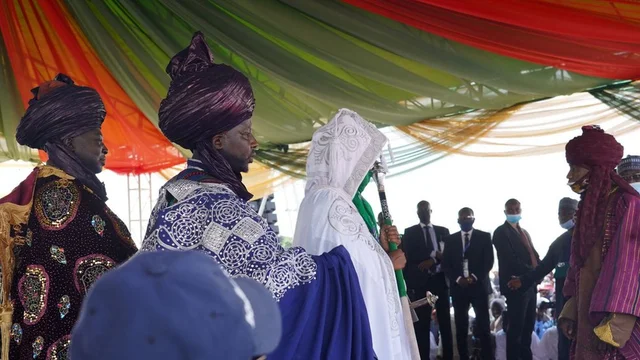 The newlywed couple did not attend that ceremony.
The groom's family paid 500,000 naira ($1,200; £900) as the bride price – about 10 times the average amount in northern Nigeria.
While there are some reports that 100 private jets flew in for the occasion, an airport official told the BBC there were actually fewer than 50.
BBC